Concept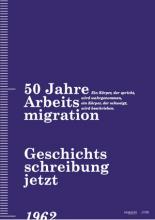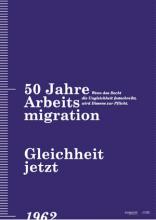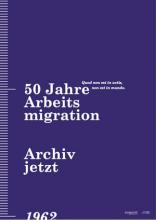 Whoever was walking through Vienna in September 2012 was likely to come across eye-catching purple posters saying "50 Years of Labour Migration – Historiography Now! Equality Now! Archive Now!" Three different posters had been put up on various places throughout the city.
The campaign was devised by Arif Akkılıç and Ljubomir Bratić, designed by Toledo i Dertschei (Eva Dertschei and Carlos Toledo) and carried out during the Wienwoche 2012. The (truncated) date on the poster – 1962 – references the first labour recruitment agreement between the Republic of Austria and Spain, which saw its 50th anniversary in 2012. In practice, this agreement was of little relevance; the agreements with Turkey in 1964 and Yugoslavia in 1966 were much more important and have had much greater social impact. The 50th anniversary of the Second Republic's first recruitment agreement was not officially commemorated, though. Equally unnoticed (and uncelebrated) was the anniversary of the so-called Raab-Olah agreement between the social partners (the chamber of commerce and the unions) which, in December 1961, facilitated the employment of foreign workers and thus played a crucial part in the subsequent recruitment agreements.
What, then, is the purpose of our call for an "Archive of Migration" and a concurrent historiography of migration in Austria? To what extent is it connected to the question of equality?
Arif Akkılıç / Ljubomir Bratic
STIMME Nr. 84/Herbst 2012, PDF
And what should an "Archive of Migration" and a concurrent historiography of migration look like? Finally: Is it enough for an Archive of Migration to solely look at the history of labour migration?
Brainstorming / Working Paper / Concept for the creation of an Archive of Migration, PDF